I am holding space for all who were impacted by hurricane Harvey to take time to practice self-care. This is a time to create new ways of living and being. After a major event such as Harvey, we cycle through of the death of a known reality. We reassess what is essential and what we value, and create a new way forward.

Everyone has the capacity for self-care. I am here to give you permission to be gentle with yourself. Honor your needs for rest, emotional support and and self-kindness as you find your way through the aftermath.
The challenges of chaos, loss, fear and anxiety are opportunities–if you are willing to see them that way–for getting clearer about your deeper needs. When you are self-loving, you support your emotional well being. This allows you to love others more freely, without hidden agendas.
For many, this is a good time to take a break from physical labor and busy doing–to nourish your heart and rest your body. We all need a break from the sense of urgency that revved up our adrenals. We are not in immediate crisis now. Sometimes it takes awhile for that to sink in to the emotional body.
Along with my friend Kenneth Gayle, we invite you to join us on Saturday for connection, sound healing and a picnic (bring your own.) See details below.
All are invited to
'Play and Pray'

Meditation for the People
Centering and Grounding
Guided Meditation and Focused Breathing

Connect with your healing tribe
Saturday, September 9 at 2-4pm
outdoors in the green grass at Rothko Chapel and reflecting pool
Children and all ages welcome
Bring what you need to feel comfortable
(optional ideas below)
Crystal Bowls, Singing Bowls, Flute, Voice, Gong
Water, snacks, picnic
Blanket, chair or sit on the grass
Your heart, your goodwill
Relax, play and connect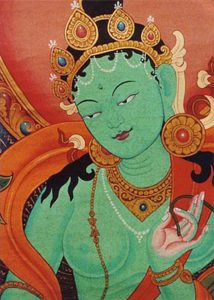 Green Tara, ancient Tibetan deity of compassion
Green Tara pre-dates Kwan Yin
My prayers are with All beings impacted by the wind, rain and storms of Harvey. Two-leggeds, four-leggeds, winged ones, the plant people, Earth and Sky, we are adapting.
May we accept the things we cannot change.
May we be present to What Is in this very moment.
Years ago, when Rita was on her way to Houston, I hosted a group meditation for centering, grounding and staying present to the elemental beings of nature with respect and receptivity. I invited people who could safely get to my house and who weren't evacuating. I led a guided meditation. Then we sang a healing song to the wind, that was given us by a Cherokee medicine woman. Thanks to Melinda Taylor for teaching me this song. The words and the meaning helped me learn from the wind and weather the storm in a sacred way.
My heart guides me to share this healing song for all who will benefit. During the heavy rains of Harvey, I sang these verses to open my heart and be present to the downpour. I have weathered every major storm in Houston since hurricane Carla in 1961. In the field beyond panic and fear, there is awe and reverence. I'll meet you there.
Spirit of the Wind, carry me
Spirit of the Wind, carry me home
Spirit of the Wind, carry me home to myself

Spirit of the Rain, wash away my pain
Spirit of the Rain, comfort me
Spirit of the Rain, carry me home to myself
Spirit of the Storm, help me be reborn
Spirit of the Storm, carry me
Spirit of the Storm, help me be reborn to myself
As Harvey approached, through Facebook and texting, I invited people to join together in prayers and sound healing. Folks who live close enough to Lightflower Studios to join safely came in person. More joined remotely. Together we built a quantum field that expanded beyond fear and anxiety into safety, wholeness and acceptance of what is present in the moment.
Post hurricane Harvey, we as a compassionate community, have an invitation to connect more fully and deeply with Source (by whatever name you use)—for strength, clarity and support to work through the trauma of loss and upheaval, as we let go of what no longer is real or important—and move forward wiser and freer–reborn.
On a physical level, we have been gathering what is needed, delivering meals, clearing streets, gutters and ditches, cleaning up debris and making donations of money and requested items to help people who have been displaced—and helping the helpers.
On a spiritual level, we have been holding candlelight meditations and prayer circles in small groups, sending out invitations to join from any location. Together we can generate a collective field of safety, peace, unity and loving-kindness to support ourselves, each other, and all who've been affected.
What has changed for you? How is this storm be a call to action for you to be reborn?
Meditation and prayer is a powerful way to take action—and provides a stable foundation for service and activism. Your meditations and prayers are needed and valued along with your labor and donations.
We have a vision of public meditation events being held wherever they are wanted throughout the city. Our intention is to hold space for all to be supported in safety, reassurance and loving kindness. If this resonates with you, please post a comment on this page and we will create together.
Because we are working through the quantum field, you do not have to be physically present to benefit or to help. You are welcome to join from wherever you are. Our vision is to build a field of steadiness, safety and loving-kindness, a resilient foundation for recovery and rebuilding skillfully, mindfully and grounded in Love from the Source of All Love.
We have heard from many people that our meditations and vigils supported them through the demands visited on us. We will continue to keep our hearts open and support those in need in the weeks and months ahead.
On the collective level, meditation and prayer lowers stress levels, increases harmony and positivity in schools, prisons, police forces. Large meditation events have temporarily lowered crime rates in entire cities. On a personal level, meditation and prayer decreases depression, improves health and immunity and supports emotional resilience, compassion, mindfulness and empathy.
Taking time to get centered and grounded enables us to give support in openhearted and healthy ways. Our grassroots efforts to meet the collective needs of our city has inspired and moved people throughout the country. Houston's spirit of compassion, celebrated every spring for a week of events, transcends political and personal beliefs and fosters mutual regard, respect and connection among our diverse cultures.
A few words about Houston
We are the 4th largest city in the country and the most diverse. We embody the spirit of inclusion and celebrate an eclectic mix of people as reflected in our arts and food scene.
We are the only city in the country to have had a two term openly lesbian mayor. Her sexual preference was not a campaign issue. Her qualifications got her elected.
Our current mayor is African American. Race was not a campaign platform. His qualifications got him elected. He has made us proud by standing up for diversity and the dignity of all who make their homes here, be they natives or immigrants, documented or not.
We would like to continue to foster generosity, safety and unity in the weeks and months to come, when we will need each other more than ever.
I have lived in Houston more than 50 years and have weathered every major storm and hurricane since Hurricane Carla in 1961. Houston regenerates. As a community, may will grow, heal and learn from our experience.
Self-help: Resources for Recovery
Many of my friends and clients are highly sensitive. If this applies to you, you may have needs that are not mainstream. It is my honor to share with you some resources that can be highly effective in navigation through and beyond upheaval and crisis.
Recommended Flower Essences – you can purchase from the sellers below

Crisis Formula – for grounding and calming
Wind and Storm – for staying centered amidst turbulence, chaos and rapid change, for staying connected and being able to articulate your needs.
Clearing and Releasing Formula – for clearing stagnant, toxic or unhealthy energy; much like burning sage, without smoke or scent
Coral Bean—for trauma survivors who experience shock and immobilization, especially when you have been shocked in the past and disassociated.
You can order these essences directly from Desert-Alchemy.
***I highly recommend the spray bottles of Post-Trauma Stabilizer from FES flowers. This is the lineage in which I am trained and certified.  Go to FES Flowers.
For specific flower essence needs personal to you and your family, please schedule a private session.
Many Blessings! I hope to see you on Saturday at the Rothko, and to be with you in the quantum.
Leave a note here if you have any questions, suggestions or comments. XOXO
Please follow and like us: